When it comes to payroll processing accuracy and timeliness are of utmost importance.
Predominantly manual systems have the potential to achieve this but at the expense of valuable time and effort on the part of payroll and HR professionals. There are valuable time and effort that could otherwise be invested in activities that add greater value to the organisation.
An organisation with a predominantly manual payroll system can spend as much as ten (10) times the amount of time and incur seven (7) times the cost of average payroll software.
It's not hard to imagine the mental and emotional strain of data gathering, reviewing, updating, calculating, and validating every period. Yet, more often than not, complete accuracy is not achieved and deadlines are missed! These pain points have led to the advent of payroll automation.
Payroll automation software simplifies the entire process by making it – well, automatic. The benefits of an automated payroll system are extensive and ultimately manifest in employee satisfaction and cost and time savings.
1. Seamless Timesheet Management
A major aspect of payroll processing is capturing employees' time at work and using it as an input for calculating their basic pay for a period. This is especially critical for deriving the wages of hourly paid employees; however, it may also capture relevant information for employees who earn fixed salaries. Many organisations use biometric and other time-clock systems to track employees' work time.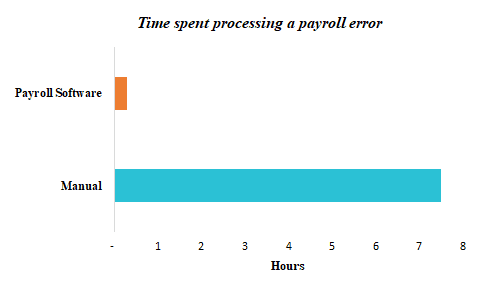 The likelihood of errors when manually processing this data is significantly high. A single payroll error can cost an organisation as much as 7 hours 30 minutes.
A payroll automated system will import this data (or even capture it through separate functionality), perform the necessary computations, and generate the results within seconds that leaves the payroll personnel with the lone task of reviewing the information and making any necessary adjustments to the time data inputted.
2. Accurate Payment Calculations
How to automate salary? An automated payroll process leverages payroll software to compute payments appropriately. In most cases, an organisation may have a mixture of employees who are paid hourly and a fixed amount every period, therefore, payment computations will vary. Automated payroll software intelligently extracts the relevant input in both cases and automatically generates information on absence, overtimes, etc. used for payment calculations.
3. Hassle-free Salary Management
It is not uncommon for organisations to make changes to employees' salaries from time to time: such things as increases, overtime rate changes, and one-time or recurring deductions may happen quite frequently. Thus, it can become cumbersome to track and update manual systems ever so often. If your organisation chooses to automate, however, these changes can be made in just a few minutes and updated figures generated instantaneously!
4. Simplified Payroll Taxes and Deductions
In most parts of the world, income taxes and deductions are a central part of business operations. In Guyana, employers and employees are required to pay taxes to the Guyana Revenue Authority (GRA) and make payments for contributions to the National Insurance Scheme (NIS). Performing these mathematical operations can be complex and time-consuming, as there is much to be considered, but payroll automation software makes this task effortless as the necessary computations are engineered within the software and can be easily updated to reflect any future changes of the same.
5. Record Keeping
Automated payroll systems also store historical records making them ideal for retaining paysheets, tax, deductions, and all other payment-related information over time with no requirement for physical storage space and makes retrieval for referencing simple.
Conclusion
Generally, payroll automation is the gift that keeps employee satisfaction, and cost and time savings high! Do you think your payroll process could be more efficient if automated? Say no to time-consuming and inaccurate payroll records that sour your relationship with employees. If you want to know how to choose the right payroll automation, read our blog 7 Key Factors to Find The Right Payroll Software.
At Techlify, our aim is to simplify work-life and we are most concerned with the value we provide to our clients. Enjoy the benefits of payroll automation by partnering with us! Consider payroll automation today!
Visit our website: https://techlify.com/
Send us an email: info@techlify.com
Call/WhatsApp us: +592-220-8662/+592-657-3905
Stay connected with us on all Social Media platforms!